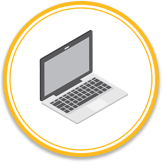 Book appointments online and access medical information for you and the people under your care.
The INLIV Health Portal allows our patients to proactively manage many of their health care needs electronically. Because your clinic is already using an electronic medical record (EMR) system from TELUS Health to store and manage your medical information, you can have secure access to your medical records online, and view your medical information any time, from anywhere.
INLIV HEALTH PORTAL SERVICES

Book appointments online
Simply login to the Health Portal, select the physician you wish to visit, specify the reason for the appointment and choose a time. You can also book appointments for others in your care, including children, elderly or sick relatives.

Manage your family's health
Parents with young families can access medical information including medication lists, allergies, vaccination records, lab and diagnostic test results. Senior patients – or relatives who are ill and in your care – can grant permission to caregivers to access medical records, making it easier to monitor and participate in ongoing care.

Monitor lab & test results
If you or someone in your care has a condition that requires regular monitoring, you can view lab and diagnostic results online. You can also see them in a timeline view, making it easier to see results over time.
Print medical reports
Get the medical information you need, when you need it. Review and print vaccination history, medication lists, current conditions and other health information.

Health Reminders
Receive reminders from your health clinic including recommended screening tests, or tips and articles to keep you and your family healthy.
our dedicated team will help you navigate and manage your health through all of your life changes.
[popup_anything id="51907"]