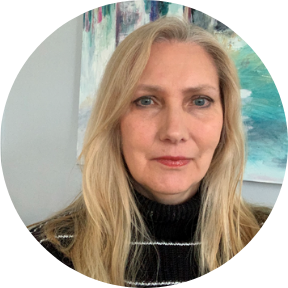 Shelley Hanna, MA, is a Registered Psychologist with the College of Alberta Psychologists, and a member of the Psychologists Association of Alberta, as well as EMDR Canada. Shelley studied at the University of Calgary and then later was inspired to complete her Masters Degree in Clinical Psychology at Antioch University Seattle.
Shelley followed her entrepreneur's heart into private practice in 2011 which has allowed time and passion to explore different areas of psychology, particularly trauma treatment and related conditions for adults and children; stress related conditions including life transitions; family issues including parenting and marital concerns as well as depression and anxiety and more. As she uses EMDR often in her work, she is currently working on the certification process to refine her EMDR skills in order to continue growing in this therapeutic approach that shows consistent positive results in shifting trauma symptoms, anxiety, depression and more.
Shelley uses therapeutic strategies of psycho-education, supportive therapy and practices that include Cognitive Behavioural Therapy, Acceptance Commitment Therapy, Mindfulness Based Stress Reduction, EMDR and other modalities.
She enjoys time in the mountains, seeing different parts of Canada and the world, the night sky and visiting her family in Vancouver and Colorado.
OUR DEDICATED TEAM WILL HELP YOU NAVIGATE
AND MANAGE YOUR HEALTH THROUGH ALL OF YOUR LIFE CHANGES.