Getting ready for wedding season or another special event? Here are some suggested treatments and how far in advance of the event or party to get them to help you look and feel your best for the big day.
---
CoolSculpting is a great way to reduce those stubborn fat pockets including love handles, belly bulges, saddle bags, inner thighs, upper arms and back/bra fat. CoolSculpting freezes the fat, destroying the fat cells, allowing those fat cells to die off and naturally be released from your body. The results appear gradually over time – generally two months or so. If you get your treatment in in April , you should start to see results in time for June.
Call Raeshell at 403 648 2137 to learn more about our CoolSculpting specials and to reserve your free consultation.
CALL NOW TO BOOK A COOLSCULPTING CONSULTATION
---
Fractional laser treatments can help improve the texture of your skin by reducing fine lines, pore size, pigmentation, and scarring. To help your skin look its best in time for wedding season, book your fractional laser treatment now, as you may experience redness for a day or two post-treatment, and your skin will feel dry and flaky for up to two weeks as the fresh new skin emerges.
For added visual impact and to help improve your healing time, boost your fractional laser treatment with platelet rich plasma (PRP).
LEARN MORE ABOUT FRACTIONAL LASER TREATMENTS
---
Not quite ready for the fractional laser treatment? Our Clear + Brilliant laser treatments are less intense but more effective than a chemical peel or microdermabrasion. Following your Clear + Brilliant treatment, you may experience some temporary redness and a mild sunburn heat sensation for a couple of hours. Your skin may be a little pink for a day or two but this is easily concealable. It will feel a bit dry and slightly rough to the touch for three – seven days, as the treated skin cells slough off to reveal your fresh new look. The results are stunning after a series of five treatments.
LEARN MORE ABOUT CLEAR + BRILLIANT
---
Botox is the most popular medical aesthetic treatment for men and women. The results will last for several months and wear off gradually, so you can get this treatment any time, though don't get Botox Cosmetic the day before that big event and expect the results to be immediate! The treatment results begin to appear after a few days with the full results showing within a week to 10 days. While there is no down time following Botox injections, there is a very slight risk of bruising.
---
Intense Pulsed Light (IPL) is a non-invasive treatment for pigmentation, sun spots and broken capillaries. These issues can be caused by sun damage, hormonal changes, pregnancy and other medical conditions. IPL can help ease rosacea, too.
I recommend getting IPL treatments a few weeks before any big event as you may experience some darkening of the existing sunspots which can take 7 – 10 days to slough off, before revealing a clearer skin tone. Some may experience a mild sunburn-like sensation or minor puffiness that usually subsides within a day or two. While many blood vessels may disappear immediately, some mild redness may persist for a day or two.
---
As we age, it's natural for our face to lose some volume. Fillers restore volume and help contour our features. They are frequently used to plump or restore the lost volume in our cheeks and lips, contour the jaw line, reduce the look of sagging jowls, and can also treat those dark circles beneath the eyes. The results from filler injections are visible immediately, though we recommend getting fillers at least a week before an event, as you may experience some minor bruising but it is usually easily covered with Jane Iredale Mineral Makeup.
Fillers are also a popular treatment to restore volume to the back of our hands while reducing the appearance of the veins. And for those women who love to wear large or dangly earrings but notice they don't sit properly on your ear any longer, filler can help with that, as well! Though you may not think about it, our earlobes also lose volume as we age.
CALL TO BOOK AN APPOINTMENT FOR FILLERS
---
Get your glow on before that big event with a microdermabrasion. It's one of the most common and least invasive treatments to freshen your face and it's great for men and women. Microdermabrasion helps remove blackheads, reduces that dry, flaky skin many of us experience in the dry, cold, winter air. You may notice your skincare products absorb more effectively and for women, makeup glides on more evenly after a microdermabrasion treatment.
For men, a microdermabrasion is an excellent treatment to help reduce and prevent ingrown hairs.
BOOK A MICRODERMABRASION APPOINTMENT
---
Yes, you can get a chemical peel without having bubbling, blistering skin! We offer a range of strength and formulations of our peels, customized to meet your needs. Chemical peels can improve the overall texture of your skin, reduce pore size, and brighten your skin. And if you're struggling with acne, a chemical peel may help. It can help address any bumps and irritation from shaving, also. As with a microdermabrasion, you'll notice your skin absorbs products more evenly and makeup application is smoother.
LEARN MORE ABOUT CHEMICAL PEELS
---
It's a lesser-known yet very effective treatment –  an injectable, non-surgical option for men and women to reduce a double chin. While it's effective in physically destroying the fat cells, you may experience some swelling and bruising, especially during the first week following your treatment. If you're concerned about people noticing the swelling or bruising, book it for when you know you're going to have a little quiet time at home. Or wrap a scarf around your neck and carry on!
You can learn more about the treatment here, and reserve a complimentary consultation with me. I'm happy to answer all your questions and determine if you're a good candidate.
REQUEST A BELKYRA CONSULTATION
---
One of the best things you can do for your skin every day is using effective skincare products that are designed for your specific needs. You can reserve a free skincare consultation with me and I'm happy to discuss your skin concerns, explain any treatment recommendations and provide skincare product suggestions, too. Or stop by INLIV and speak with Raeshell, our medical aesthetics coordinator for suggested skincare and makeup products.
CALL TO BOOK A COMPLIMENTARY SKINCARE CONSULTATION
---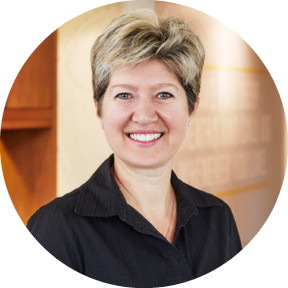 Registered Nurse, INcare
Nadia Zinchuk has 20+ years of nursing experience, with over 10 years specializing in the medical aesthetics field. She received her Bachelor of Science in Nursing from the University of Alberta, and her certification in occupational health nursing from MacEwan College University. Nadia has advanced training in body contouring, facial rejuvenation, anti-aging treatments and corrective skincare. Her enthusiasm for her work stems from witnessing her clients transform and seeing their increased confidence and sense of wellbeing.