INLIV is thrilled to feature a duo client and fitness trainer spotlight this month: Ken Wilson, INLIV client for over 14 years, and Personal Fitness Trainer, Jamie Guislain.

Client Spotlight: Ken Wilson
Why is fitness important to you?
I fully want to live life to the fullest extent possible, in terms of engagement, activity and duration. I firmly believe that physical mobility, stamina, and a happy nature are all positively affected by a regular fitness schedule, thus allowing me to reach my 'fullest extent' goal.
Why INLIV and what has kept you training here?
The facility was close to my home and office and came with a very good reputation. The facility itself has a great appearance, size, equipment variety and locker room. The qualifications of the personal trainers (B.Kin) as well as their excellent character and the relationship with the other services offered by INLIV (medical, physiotherapy, testing) and other health professionals such as physicians and clinicians, has kept me here. Finally, the great relationships that I've developed with my many personal trainers over the years keeps me here.
What is your most memorable or favourite healthy living achievement?
Training for and participating in the Ride to Conquer Cancer in June 2011, with a seriously degraded osteoarthritic knee, macular degeneration, and cardiovascular disease. I have been living very well for these past fourteen years, thanks to INLIV Fitness and THM for the care.
What inspires you to continue making fitness a priority?
It has clearly worked very, very well and I don't want to 'backtrack', ever!
Do you have a personal goal you're currently working towards?
Yes, and it is known, thanks to INLIV, as my ALG or Amazing Life Goal: "To be more fit, more flexible and stronger ten years from today than I am now."
Personal Fitness Trainer Spotlight: Jamie Guislain
Why did you become a personal trainer?
After completing my bachelor's degree, I wanted to take what I learned and help others apply it to daily life. Becoming a personal trainer allowed me to do this daily by helping clients reach their own personal goals. I wanted to be able to help people increase longevity through movement so they can do the activities they enjoy for as long as possible.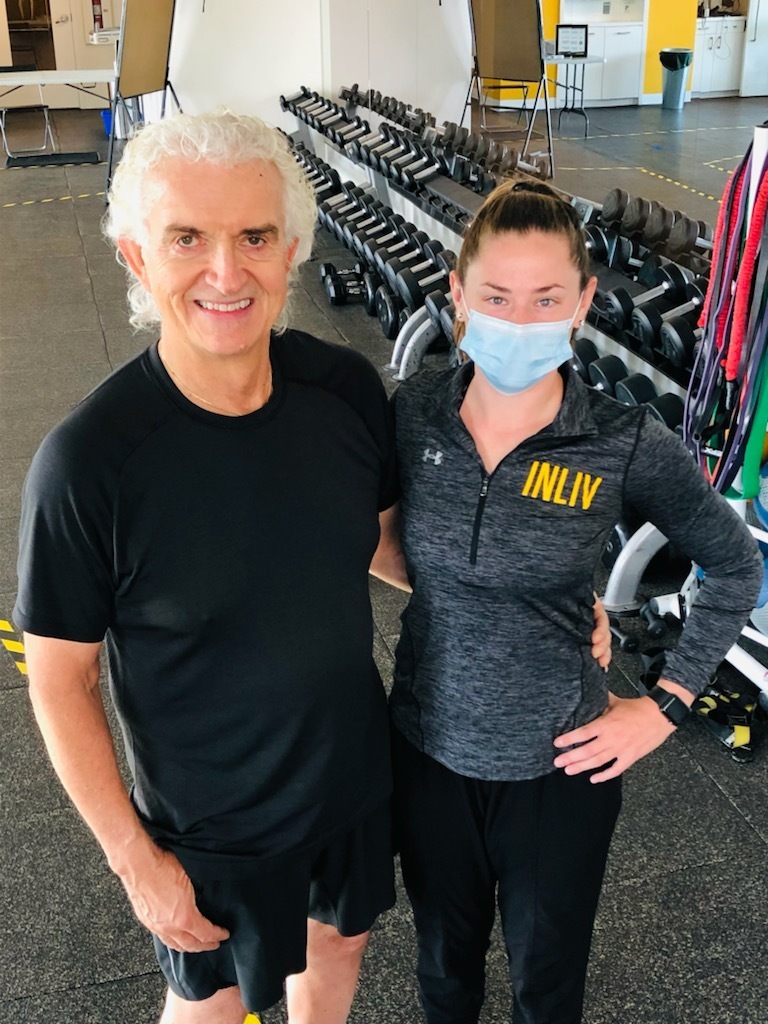 What are your current certifications and designations?
CanFit Pro Personal Training
SpecialistBSc in Human Kinetics with Minor in Health Sciences
Trigger Point Foam Rolling & Myofascial Compression Techniques
Agatsu Kettle Bell Level 1 Instructor
Darby Training System Low Back Specialist
What was your most satisfying training moment or your favourite client success story?
I have had clients hit milestones in weight loss and strength personal records. These are huge successes for us but for me the most rewarding moments are when I am able to help clients reduce chronic pain. A number of clients I see have deteriorating knees, hip replacements, or chronic back pain. We have been able to work through these issues to help reduce the day to day pain and improve overall function of their body. For some clients this means they were able to get back to activities they weren't sure they were able to do again.
What are your hobbies outside of work and physical activity?
My hobbies in my down time still keeps me active. I volunteer throughout the winter as a minor hockey coach in the city. I still play ice hockey myself and recently have taken up ball hockey. In the summers I spend as much time as possible in the mountains hiking or backpacking and the winters I will likely be at Nakiska any opportunity to continue improving my snowboarding skills.
Do you have a personal goal you're currently working towards?
Currently, I am working towards running my first marathon that will be on September 12 of this year.