At INLIV, we provide skin care products, acne treatments, and prescriptive solutions to help combat acne at any age. September is Acne Awareness month, and we carry several products to help give you the glow you deserve. A few of our Physicians chimed in as well with their expertise on strategies to alleviate acne.

Hormones, diet, medications, and genetics can all play a part in acne breakouts. Though most people associate acne breakouts with being a teenager, adult acne is a challenge as well. About one-third of acne patients seen by doctors are women, aged 25 years and older, according to The Acne & Rosacea Society of Canada (2021).
The root cause of acne is often hormones.
INLIV's physicians conduct testing to help balance hormones, improving acne issues and overall wellness. "I see a number of women ages 16 – 25 who are struggling with their periods, acne, weight gain, body changes, and polycystic ovarian syndrome. Through hormone testing, we may be able to treat them using natural progesterone, and ensuring their thyroid is functioning well. Perimenopausal women may face adult acne challenges, and that's tied to hormones as well," shared Dr. Nanette Fouché, Total Health Management physician.
Acne may be influenced by your diet, but perhaps not the way you're thinking. It's an old myth that it's caused by eating greasy food or too much chocolate, though it may be about food sensitivities. If you're struggling with acne breakouts, review the foods you're consuming.
"Acne is an inflammatory condition, and may be impacted by gluten, dairy and sugary foods. For acne sufferers, I recommend trying an anti-inflammatory diet. You may see improvement to your skin by reducing or eliminating some of those triggers. If you're still struggling, food sensitivity testing may help pinpoint elements that are aggravating your system," says Dr. Fouché.
Skin Care Products To Treat Acne
1) Acne Treatment System from Vivier
One of the easiest and most comprehensive skin care solutions to treat acne at home is Vivier's Acne Treatment System.
Each Acne Treatment System kit contains a Medicated Wash and Acne Treatment Lotion. The wash is anti-microbial, containing salicylic acid to effectively cleanse the skin, and the lotion contains benzoyl peroxide, a powerful acne-fighting ingredient.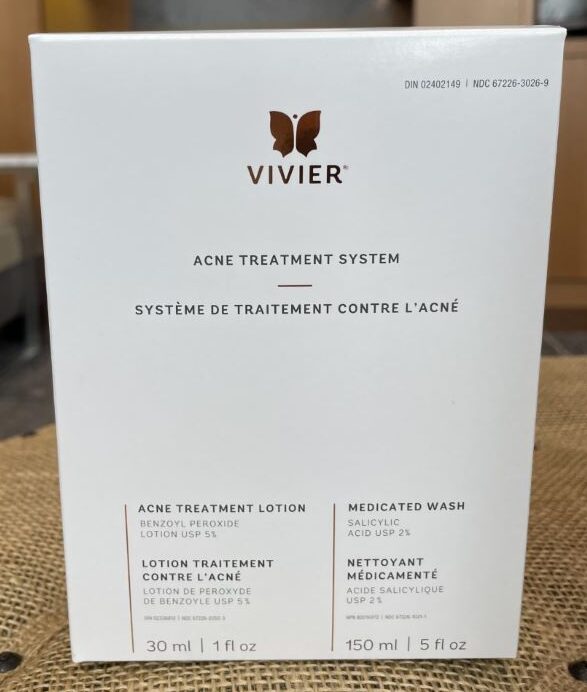 "I've struggled with acne for years, and this kit is my saviour," says Allie Stewart, INLIV Medical Aesthetics coordinator. "Whenever I have a flare-up, I immediately start on the Vivier Acne System and I see a huge improvement in my skin within a few days."
Also available for purchase on its own, the Medicated Wash is a popular choice with some of our male fitness clients who experience acne breakouts on their backs.
2) AHA/BHA Exfoliating Cream from Vivier
A chemical exfoliant, this cream gently sloughs off dead skin cells. "This AHA/BHA Exfoliating Cream is an ideal product for those with adult acne, as it also contains peptides and other anti-aging benefits," adds Nadia Zinchuk, registered nurse with the INLIV Medical Aesthetics team.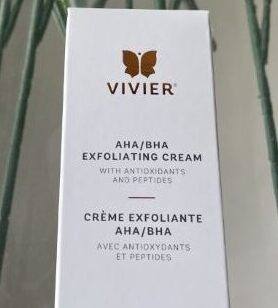 3) Vitamin C Face & Body Scrub from Vivier 
Suitable for all skin types, Nadia recommends this scrub with antioxidants and biodegradable microbeads. 
4) Spot Clearing Lotion from AlumierMD
To treat stubborn spots of acne, Alumier's Spot Clearing Lotion contains benzoyl peroxide to target blemishes, along with tea tree oil and resveratrol to reduce redness and irritation.
5) Redness Solution Complex from Vivier
"Those with acneic skin are often afraid to use moisturizer, but it's important to put moisture back into the skin to help protect its natural barrier. Vivier's Redness Solution Complex helps soothe and hydrate the skin without feeling greasy," says Allie.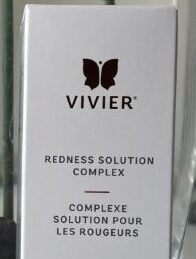 Medical Aesthetic Treatments for Acne and Acne Scarring
1) Microdermabrasion and Chemical Peels
There are several medical aesthetic treatments that are helpful for those with active acne. During your complimentary consultation, Nadia will assess your skin to determine if a microdermabrasion or chemical peel is recommended to kickstart your results.
Both chemical peels and microdermabrasion thoroughly exfoliate the skin, removing excess debris on the surface of the skin that is creating the environment to block pores.
"Chemical peels and microdermabrasion are popular with clients who are eager to see improvement in their skin quickly, often after just one treatment, especially in combination with our recommended skin care program. I also have male clients seeking solutions for acne breakouts on their back, or 'backne'. Chemical peels and microdermabrasion are highly effective for the back, too," Nadia says.
2) Intense Pulsed Light
Once the active acne has cleared and the skin has entered the healing stage, Nadia recommends Intense Pulsed Light treatments to reduce the remaining redness.
3) Microneedling and Laser Resurfacing
Acne scarring may occur after acne breakouts. Microneedling and laser treatments can help reduce the appearance of scars, including acne scars.
These treatments create micro-injuries to the skin which your body recognizes as a healing opportunity. Healing platelets rush to the area, promoting collagen production to help smooth your acne scars.
Treating Acne with Prescription Medication
While acne is largely considered a cosmetic issue, it's a medical issue, too. For some acne clients, Nadia may recommend seeking treatment from one of our INLIV physicians.
1) Low Dose Antibiotics

Clients with severe acne may benefit from a systemic treatment, like a low dose antibiotic, says Dr. Kannin Osei-Tutu, one of INLIV's physicians in our Medical Aesthetics department. "A low dose antibiotic provides anti-inflammatory benefits and can be quite helpful for acne that's cystic or has lasted for quite some time."
2) Kenalog

For acne that's causing a deep, painful cyst, Dr. Kannin may opt to administer an injection of Kenalog to help atrophy and reduce the cyst. Results are usually noticeable within a few days.
Struggling with acne breakouts? Book your free acne consultation with our Medical Aesthetics Registered Nurse, Nadia Zinchuk for skin care and treatment recommendations.