What's your fitness goal? Whether it's to lose fat, gain strength, train for your favourite sport, complete an Ironman, or improve your overall health, our INLIV personal training team can get you there with the help of our medically-based fitness assessment.
Utilizing a wide range of medical screening tests, blood tests and health evaluation, our fitness assessment goes far beyond what you'll get at a regular gym or workout facility. And that helps your results go far beyond, too! It all starts with an extensive assessment to establish your health benchmarks, determine specific limitations and challenges you face, and set a clear plan in place to move you along your wellness path.  
With INLIV's extensive fitness and health assessment, you get a detailed, medically-based overview of your current health, creating a strong foundation for us to build a highly customized training plan to help you achieve your goals. – Jamie Wilkins, INLIV Fitness General Manager
Our INLIV health and fitness assessment is for everyone, whether you're a newcomer to exercise, a weekend warrior, an Ironman athlete, you're looking to start a new fitness plan, or wishing to lose weight.  Our customized plans are designed just for you, and our team provides personalized service in a friendly, welcoming and engaging environment. And your advanced assessment is included free with the purchase of 10 or more personal training sessions!
Your INLIV fitness assessment takes just 60 minutes and includes:
Health Risk Survey
You'll be asked to complete an online health questionnaire to provide our team of specialized personal trainers essential information on your health, lifestyle, stress management, nutrition, current fitness levels, and family health history. The survey takes approximately eight minutes to complete and provides you with immediate feedback, that's easy to understand.
Body Composition Analysis with the BODPOD
The BODPOD is safe, comfortable and is considered the gold standard for measuring body composition. In just 15 minutes, it measures lean body mass, fat mass, your resting metabolic rate (the number of calories your body needs to support the basic functions of living), and calculates your total energy expenditure (the number of calories your body requires for each day). Learn more about the BODPOD here.
Musculoskeletal Screening
You'll be coached through a series of 10 – 20 functional movement tests to help identify any movement dysfunction, asymmetry, and analyze your posture and joint mobility. The movements will be videotaped, allowing us to review the results with you to identify and assess your risk of injury and recognize any areas of pain. This testing program allows us to design your customized program to ease risk of injury or pain while improving functional movement and range of motion.
Wellness review
We will discuss your general wellness and lifestyle, including diet, exercise, activities, sleep patterns, energy levels, health goals and more.
What happens next?
All of your test results and data will be input into our custom dashboard for the INLIV team of fitness specialists to evaluate and interpret your results, allowing them to customize a program just for you that goes beyond a physical workout plan. We want to get to know you as an individual and help you reap the mental, emotional and meditative benefits of a collaborative, personalized, approachable and engaging medically-based fitness program.
Together, you and your INLIV personal trainer will:
Review your test results
Discuss your goals
Confirm your fitness plan and lifestyle program
Establish timelines and benchmarks for your progress
Create an accountability structure to help guide your success
And a year later, you'll be tested again so you have precise data to evaluate your results – and celebrate your progress!
This advanced testing and customized fitness program is included, free of charge, with the purchase of 10 or more personal training sessions at INLIV. The total fee for your testing, personalized plan and 10 personal training sessions is just $860.
Health is your greatest wealth! Invest in your health today with an INLIV fitness assessment and personal training program.
Jamie graduated from the University of Regina with a bachelors in Kinesiology and finished his CSEP-CPT certification in 2012. He played five years varsity volleyball for the U of R Cougars while applying his passion to coaching club volleyball and training young athletes. After spending several years working in a rehabilitation and exercise therapy setting, Jamie moved to Calgary to join the INLIV team. Jamie works closely with other trainers and healthcare professionals to ensure each client is receiving the best care and service through our integrative health care approach.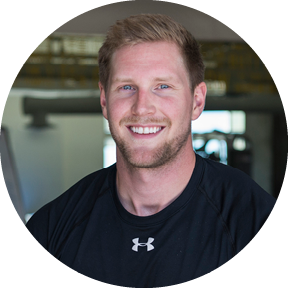 Jamie Wilkins,
Fitness General Manager, INenergy