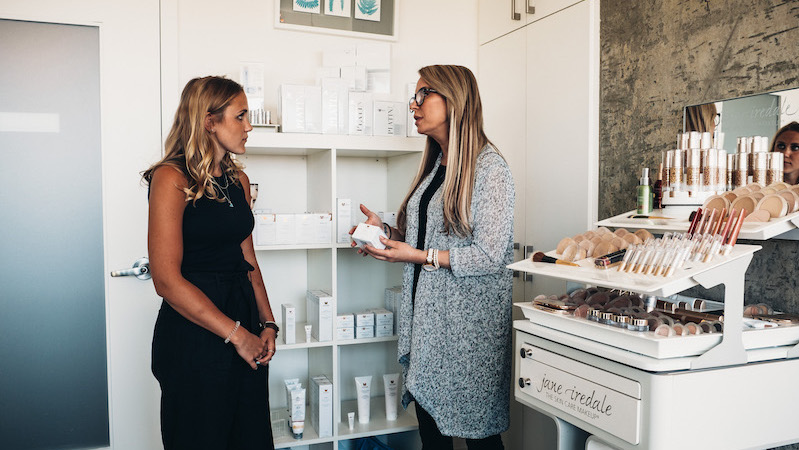 Favourite skin care products at INLIV
While we have a wide range of medical aesthetic treatments to help enhance the appearance of your skin, proper products for at-home care are essential, too. All of our products are carefully selected by our medical director, Dr. Wendy Smeltzer, so you can be assured they're of exceptional quality and highly effective, addressing a range of skin concerns. Here are some of our favourite skin care products.
---
Vivier GrenzCine Serum
About Vivier GrenzCine Serum:
Increases firmness and hydration of the skin
Thickens the skin
Increases skin's luminosity
Diminishes fine lines and wrinkles
Increases appearance of more youthful skin
Improves skin tone, texture and elasticity
Oil-free, alcohol-free, hypo-allergenic, non-comedogenic, dermatologist tested
---
Vivier GrenzCine Neck
Our medical aesthetics coordinator was so excited about this product she was showing her neck off to all our clients so they could see the difference it makes. Regular use resulted in a significant reduction in the wrinkles and lines on her neck. 

About GrenzCine Neck:
Corrective cream for neck and décolleté
Thickens, brightens and moisturizes skin
Firms and lifts neck tissue
Developed by a plastic surgeon
---
Vivier GrenzCine Eye Creme
Eyes are the windows to our souls and sometimes the window frame needs a little repair! This GrenzCine eye creme is just as wonderful as the serum and the neck product but it's specially formulated for the delicate tissue around your eyes.
About GrenzCine Eye
Formulated for the thick skin on the eyelids and around the eyes
Helps to increase the thickness and firmness of the skin
Diminishes fine lines and wrinkles
Increases moisture and luminosity
Fragrance-free
---
Vivier HEXAM Facial Cleanser
This is a favourite face wash with many of our clients. It's gentle, yet cleans your pores and removes make-up, including mascara and eyeliner. Your skin will feel clean and fresh but not tight.
About Vivier HEXAM – Facial Cleanser
Gentle, pharmaceutical grade cleanser
Hypoallergenic – ideal for all skin types
Deep cleans pores
Purifies oily skin
Alcohol-free
Oil-free
Dermatologist tested
---
Vivier Sheer Sunscreen
It's so important to protect your skin from both UVA and UVB rays, and sunscreen should be used year-round. Vivier's Sheer Sunscreen doesn't make your skin feel sticky. It has a nice silky finish and allows your skin to breathe.
About Vivier Sheer Sunscreen
Broad spectrum SPF45
Pharmaceutical-grade sunscreen
Silky, soft and weightless
Contains powerful antioxidants and silica for a soft-touch texture
Dries quickly with no residue
Ideal for all skin types
Oil-free, fragrance-free, PABA-free
Recommended by physicians
Can be used following some medical aesthetic procedures, even when your skin may be more sensitive
---
Jane Iredale Liquid Minerals – Make-up
Jane Iredale products are incredible. The Liquid Minerals come in a vast range of colours to match each individual skin tone. And it's a great product, even for those with sensitive skin or anyone struggling with acne or rosacea.
About Jane Iredale Liquid Minerals
Lightweight formula that won't clog pores or irritate skin
Sheer, liquid texture for a smooth dewy finish
Helps cover imperfections
Reduces the look of fine lines
Diminishes large pores
Refines skin's tone and texture
Contains CoQ10 to help diminish signs of aging
The beads that are visible are liposomes in a soothing formula of aloe vera gel and glycerin
Paraben-free, vegan and non-comedogenic
---
Jane Iredale Pure Pressed Powder
This pressed powder is fantastic! It provides a beautiful smooth finish without feeling heavy or looking overdone. It's easy to apply, too. In a rush? Just brush some of this on and race out the door. It even has an SPF of 15 – 20. And we love that the compact is refillable.
About Jane Iredale Pressed Powder
Weightless sheer matte foundation in warm, neutral and cool tones
Made from micronized minerals
Oil-free and weightless
Broad spectrum UVA/UVB sun protection of SPF 15 – 20, depending upon the colour/shade
Water-resistant to 40 minutes
Contains anti-oxidants that help fight free radical production caused by sun exposure
---
Stop by INLIV and pick up some of our specially-selected medical grade skin care products and mineral make-up. And don't forget to clean out your make-up bag regularly. Check out these guidelines so you know how often you should discard some of the most popular products.
If you're wondering what treatments may be right for your skin concerns, call our medical aesthetics department 403.648.2137 or click on the link below to book a free consultation with Nadia Zinchuk, our registered nurse. And you can search our different medical aesthetic treatment options here, too. See you soon at INLIV!
BOOK A FREE SKIN CARE CONSULTATION