At INLIV we are all about inspiring amazing lives, but we love it even more when our clients are the ones inspiring us! We are super excited to feature one such client, whose efforts both in the gym and in her daily life have enabled her to experience some incredible achievements.
Bev has been an INLIV Fitness client for 10 years, and we sat down with her to chat about workout motivation, fitness goals, and cookbooks!
Why is fitness important to you?
It's both a means and an end! The fitter I am, the more I seem to get out of life, and I also really enjoy movement and working out for its own sake.
Why do you choose INLIV for your personal training?
I really appreciate the professional workouts, the systematic and personal approach, and the periodization that helps me to stay fresh and focused and to track my progress. [My trainer] Cole challenges me with every workout – it is always hard but also fun. I also highly value the integration between any physio that I need with Andrew and the gym training.
What is your most memorable fitness achievement?
I was fit, healthy and athletic up until my early 40s, then for about a decade I sacrificed a lot of my well-being for work, and although I made some big strides professionally, I lost my perspective and my time became dominated by work, work, and more work. I had to struggle to get back into fitness and there were a lot of ups and downs but over the years my regular trainers were excellent and they encouraged me to do things that at times seemed preposterous, such as four sprint triathlons and the 80 km Branchout Bike Tour.
The sculptor Brancusi said that "things are not difficult to do…..what is difficult is getting oneself in the state to do them" and sometimes it is helpful to have some support from others.
I am on sabbatical from the university this year, and started it off with a 5 day bike trip on Vancouver Island and I am planning another multi-day bike trip in a couple of months. For the past year or so, rowing has been one of my other main physical activities, and I completed an indoor rowing half marathon a couple of months ago (ranking 10th in my age cohort (60-69) internationally). My training at INLIV is completely transferable to other activities, and I feel much stronger as a rower, for example, because of the workouts I do in the gym.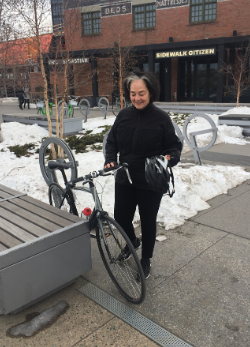 What inspires you to continue making fitness a priority?
I am finding that every year I get older, whatever I do really requires an intention. Gone are the days where keeping fit just seemed to happen on its own. I want to stay as active as possible my entire life, and have established a routine of exercising pretty much every day, no matter what. There is great support at INLIV for making fitness part of my overall life, and the new emphasis on Movement Medicine resonates with me and my life goals. Every session in the gym has an effect, lasting long after I walk out the door.
You've written a cookbook! Tell us about it!
While on sabbatical this year, in addition to academic research and writing, I have also had the time to tackle some fun personal projects, and in particular – my cookbook. The book was a way to bring together three of the things I really enjoy doing – cooking, drawing and traveling. It has been surprisingly rewarding to do something that is purely for fun, and to have done it all – writing, photography, design – myself. The big lesson to me was to be able to see myself as independent from my academic job, and I think it opened the door to doing more personal projects that involve creativity or physical activity.
Bev's cookbook is called "Recipes + Ramblings by a Girl from the Prairies" and is available at INLIV reception.