When you're one of the people in charge of the daily operations of a large company – be it a provincial heavyweight or a multi-national corporation – it can be easy to lose track of your healthy habits. Over time, you find yourself cutting corners – a little bit, here and there: easy meals, instead of healthy ones; missed exercise classes; or loss of work-life balance. Before you know it, the stress and pressure of your career can take a toll on your health. 
INLIV's Corporate Health programs feature our Proactive Health Assessment, where our medical team is focused on detecting health issues early, to help reduce risks while they remain minor and manageable. We examine how lifestyle behaviours and stress can impact your executive's and employee's health and well-being.
INLIV's Proactive Health Assessment includes:
90-minute physician consultation
Review of your lifestyle and habits
Screenings for specific conditions that may present future challenges
90-minute cardio respiratory fitness assessment
One year of ongoing virtual healthcare provided by Wello
LEARN MORE ABOUT PROACTIVE HEALTH ASSESSMENTS
In addition to the health benefits, each executive will receive a personalized summary report of their health. Companies with 20 or more executives may also receive an overall snapshot report of their employee's health and wellness, including key issues detected as a result of working with INLIV. All report summaries provided to the employer contain aggregated and anonymous results, for the privacy of each patient. Check out the sample report below.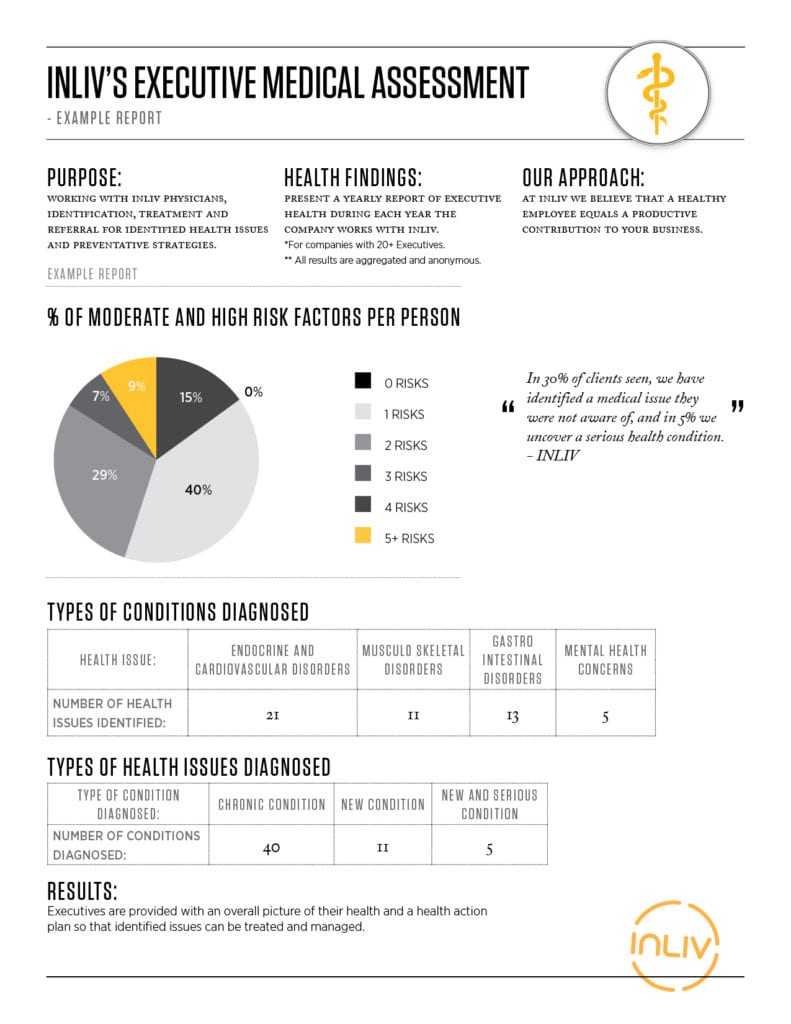 Contact INLIV today to discuss how we can help improve the health and wellness of your executives and employees. Call 403.538.8881 or click on the link below to request your free consultation.