Stress is heightened during the holiday season for many reasons – our routines are interrupted, we eat more, exercise less, have work deadlines and end-of-year expectations for ourselves. Check out these tips from our INLIV team revealing their tips to ease holiday stress.
Be mindful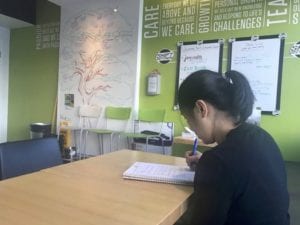 Practicing mindfulness and meditation are very important for overall wellness and great to combat stress, anxiety, and depression. Take a moment each day to write down the things in your life that you are grateful for and a specific reason. Try to include things you may not think about often or even take for granted. Do it daily and you'll discover you have a lot to be grateful for. – Juliet Arreola, Operations Coordinator
---
Get some fresh air
"To get into the spirit and relax from the stress of holiday shopping, parties, etc – I put on some music and do some Christmas baking. After Christmas, we're off to the ski hills with family and friends to enjoy the mountain air and get some exercise on the hill." – Fitness Trainer
"We spend a lot of time outdoors enjoying the fresh air and sunshine. We flood the yard to make a rink, and we have a toboggan run that goes down to a frozen lake. We flood the run so it's super fast! And for fun on Christmas Eve, we sneak up onto the roof and run two 2×4 planks down from the chimney so it looks like tracks from Santa's sleigh. It's so fun to watch the kids run out to check for the tracks in the morning!" – Ryan Hamilton, Innovation Director
---
Take a reading break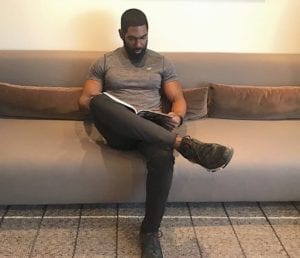 Over the hectic holiday season, be sure to step away from all the activity to enjoy a few moments of relaxation. Sprawl out on the couch and read a book. Reading will whisk your mind away, helping you to relax. – Donovan Pagan, Personal Trainer
A lovely, Icelandic tradition is to give the gift of a book on Christmas Eve, then spend the evening reading it. So many books are purchased in the few months leading up to December 24th, they call it "Jolabokaflod" – the "Christmas Book Flood".
---
Take a digital detox
We've become so reliant on our technology, but the constant beeping, buzzing, ringing and vibrating is stressful! Now is the perfect time for a digital detox. Get a box or basket and collect all your family's devices so you can spend quality time together. Get outside and make snow angels, gather in the kitchen for some holiday baking, or dust off those classic games like Scrabble, Clue or Twister!
---
Burn off some of those office treats during your break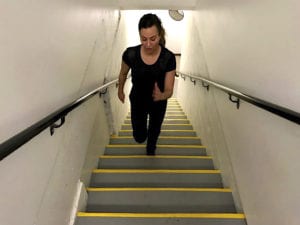 Set the timer on your phone for five minutes and walk up and down the stairs. This promotes blood flow, will make you feel more energetic and helps burn some extra calories for the office treats that seem to be everywhere this time of year! – Raeshell Birin, Medical Aesthetics Coordinator
---
Plan a vacation
"Planning a vacation is my way to relax!  I love researching and exploring different destinations – and looking forward to the hot sun and the ocean when I'm snuggled in for a Calgary winter. It makes such a difference knowing that a break is coming. I get excited about small things like walking around barefoot and not having to wear 10 layers – knowing that is coming makes me more optimistic and energetic at a time of year that can be tough for a lot of us." – Anna Smith, People and Culture
Research has shown that planning and anticipating a trip can make people happier than the trip itself!
---
Dance it out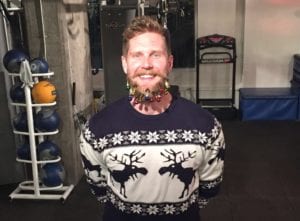 "For a little stress relief, dance it out! Crank up some tunes and dance – it's good for your health, gets you moving and loosens up those tense muscles. And it makes me happy!" – Jamie Wilkins, Fitness General Manager
---
Make packing easy
If you have to fly to visit family and friends out of town, getting gifts packed up to travel can be a challenge. You may find once you're at the airport, you'll be asked to unwrap gifts for security reasons, wasting your time and effort. Gift cards are an easy way to go – they're available for a wide array of stores, items and experiences, they don't take up space, and don't require extensive gift-wrapping. Saving space can be helpful when you're trying to pack the kids, the luggage, the food, the gifts and the dog into your car for the ride to grandma's house, too.
---
Spend time with loved ones
"Our Nigerian holiday traditions are fun-filled family events, often involving Christmas parties that last all night long on Christmas Eve! The next morning, they go to church to give thanks. In addition to turkey, a traditional Christmas meal in Nigeria may include beef, goat, sheep, ram or chicken, with side dishes like pounded yam, jollof rice, fried rice, vegetable soup and some type of stew." – Kikelomo Omooba, Medical Care Coordinator
---
Stay hydrated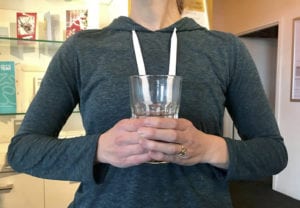 It's always important to stay hydrated – and definitely needed during the holiday season. Sometimes we confuse thirst with hunger. When you're tempted to take that extra cookie or sweet treat, drink a glass of water, first. You may discover you were just thirsty.
If you find your wine glass is getting refilled a little too frequently at holiday parties, try this tip – as soon as you've taken the last sip of wine or cocktail from your glass, immediately fill your glass with water. That removes the opportunity for someone to top it up with more wine and ensures you alternate your alcohol intake with water.
---
Wrap it up
"I get totally stressed out about wrapping all the gifts, so I've made it part of my Christmas Eve tradition. I lock myself away with all my supplies, put on some music and wrap away. Of course, I have that inevitable moment the next morning when I feel all my efforts were for nothing as everyone tears into their gifts – but watching that is part of the fun!"  – Caroline Hammel, Clinic Manager
Tip: If you dislike wrapping gifts or you're short on time, many stores offer a gift-wrapping service – and the malls often do too, frequently in support of a charity. Sit back, relax, and let them do it for you. (And if a gift requires assembly, ask the store if they offer that service, too.)
---
We wish you a wonderful, fun-filled holiday season – from everyone at INLIV