UPDATE: Thanks to everyone who contributed and supported our 20th annual Train The Trainer event! Check out this video for some of the highlights.
Train The Trainer
Friday, October 26, 2018
5:30 – 7:30 pm at INLIV
That's right, Train the Trainer is back for its 20th year! During this two hour event, INLIV clients and friends will challenge their trainers to five minute sessions of whatever gruelling exercise they want. Each five minute challenge is purchased with a $50 donation to our selected charity. This year, we are supporting KidSport Alberta, in honour of our friend, Tim Harriman.
KidSport Alberta believes that "no kid should be left on the sidelines and all should be given the opportunity to experience the positive benefits of organized sport."
At INLIV, we have a special relationship with KidSport Alberta. Our very own Kelly Blackshaw, Wello's Business Development Director, co-founded the KidSport Society of Alberta in 1995. Since then, it has gone on to raise over $25M to help more than 106,000 under-resourced kids play a season of sport.
No kid should be left on the sidelines and all should be given the opportunity to experience the positive benefits of organized sport
Kids leading healthy, active lives is something that our late friend and former INLIV client Tim Harriman cared about deeply. In 2005, after Tim's initial battle with cancer, he began training for a cross-Canada bike ride to raise money for childhood cancers. In the summer of 2007, he rode from Victoria, BC to St. John's, NFLD, raising nearly $500,000 for his cause. After his fourth bout of cancer in 2010, Tim succumbed to the disease. Our INLIV team is honoured to donate all proceeds from our 20th Train the Trainer event to KidSport Alberta in Tim's memory.
Can't attend?  Click here to donate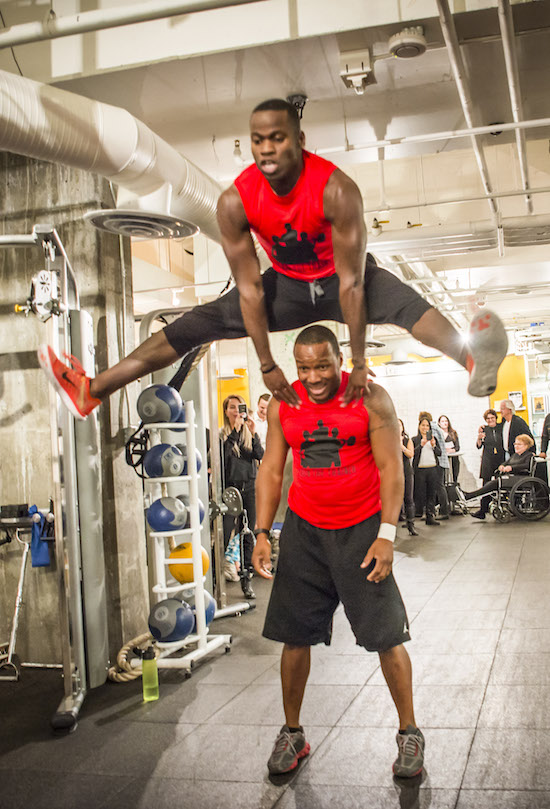 While our trainers sweat it out at the event, clients, guests and visitors can relax and enjoy food and drinks. Everyone is welcome to come by.  In addition, there will be some amazing gift baskets available to win.  Your ballot entry is by donation, with all proceeds going to KidSport Alberta. (If you or your company would like to donate an item for inclusion in the gift baskets, please send us an email).
Our trainers know that as hard as 120 minutes of insane amounts of exercise may be, it's all worth it to ensure Alberta's kids get to participate in sports and live active, healthy lives. We are extremely grateful to our friends and supporters who are helping remove the financial obstacles that families may face, allowing their kids to play sports and enjoy being kids!
To book your five minute session to Train The Trainer, contact Makaeley, our INLIV Fitness Client Experience Leader.
Book your 5 minute training time
Planning to attend Train The Trainer? Please note that INLIV will be taking photos at the Train The Trainer event on October 26, 2018. The images will be used by INLIV for marketing and advertising, with potential for use on INLIV's profiles on Facebook, Twitter, and LinkedIn platforms, on the INLIV website, and in print. Your attendance at the event establishes your consent to be photographed, filmed and/or otherwise recorded, and to the use of the media as described above.
---
Watch our INLIV Facebook page for more information and to follow the fun of Train The Trainer