The team of health and wellness professionals at INLIV has one simple mission – to inspire amazing lives every day. What drives that mission is what we call our BHAG, our big, hairy, audacious goal; to help solve the Canadian health care crisis. How will we achieve this? Our Innovation Lab, affectionately referred to as our iLab, is essential. We are continually introducing advanced health and wellness services, preventive initiatives, and innovating to uncover new methods to improve the lives of our clients and our team.
What is the goal of the Innovation Lab?
Merely doing things the way they've always been done isn't good enough. The iLab at INLIV is designing our future by recognizing and responding to the needs of our health and wellness clients, both present and future. We're continually working to identify any current stumbling blocks as well as the challenges we can see on the horizon. We seek to be imaginative, detect the problems, and solve them by finding tangible, sustainable solutions.
"Some ideas introduce radical, out-of-the box thinking while others reflect incremental and adjacent innovations. Each small improvement helps build great achievements," notes Ryan.
Who participates in the INLIV Innovation Lab?
"Every member of our INLIV team – or INmate, as we like to call them – plays an essential role in our innovation. To be successful, we need to solicit everyone's ideas and input, and engage the team across all areas of our business," says Ryan Hamilton, Innovation Director at INLIV.
"Our team members are uniquely qualified to identify and solve each challenge. Everyone on our team provides a different perspective on the same challenge and securing input from each stakeholder allows us to view things from all angles so we can harness that knowledge to find a solution."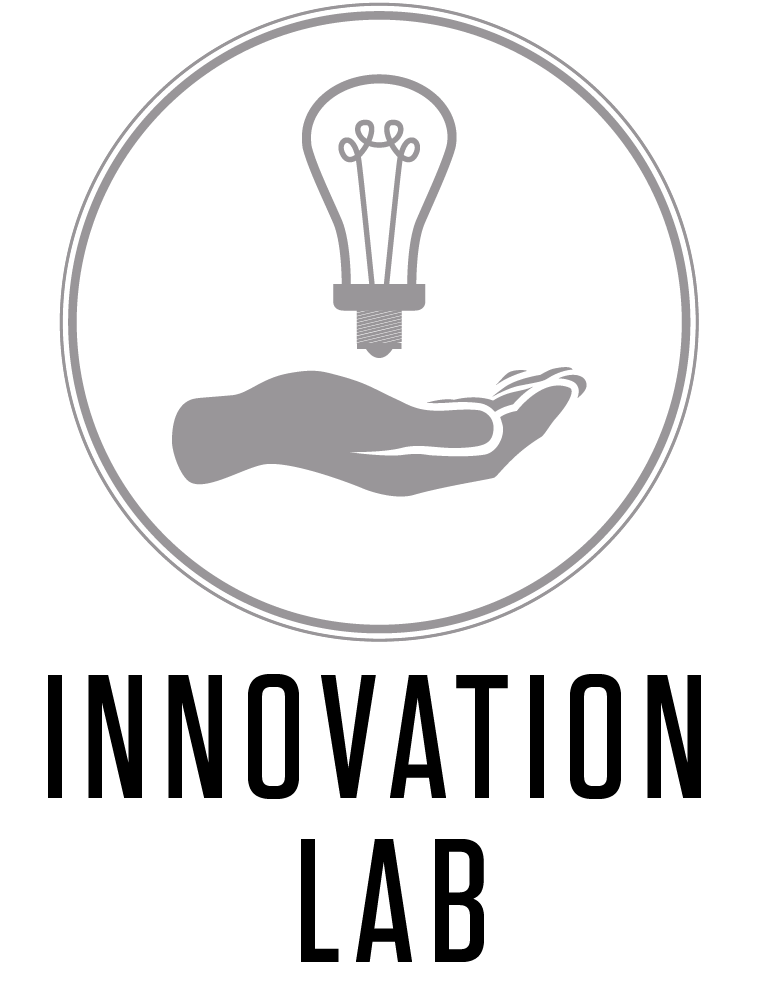 Every idea, big or small, has value in its ability to pinpoint an improvement within our organization or the healthcare industry. Those ideas feed our Innovation Lab.
Ryan hosts 'pitch days' every three months for teammates to present their concepts. To assist in developing their pitch, he has created loose parameters and often meets with them in advance to help hone their presentation. Each participant has five minutes to present their pitch, followed by three minutes for questions from the panel and other INmates. The pitch panel is comprised of members of the INLIV leadership and management teams, and all staff is invited to attend pitch days to learn about the new concepts being considered. Teammates working remotely or unable to be onsite can participate virtually through an online video platform.
One of the most important measures of success is ensuring the team feels comfortable, confident and valued when presenting on pitch day. As an acknowledgment for the input and effort, everyone who pitches an idea receives a $50 gift certificate. Additional bonuses and revenue sharing incentives are available at various goal posts as the project advances. For some team members, presenting and guiding their innovative idea through to completion has resulted in an evolution of their position and job title, as they move into a project manager role.
How are the Innovation Lab initiatives developed?
While the Innovation Lab is the hub for our innovation activities, much of what follows the pitch occurs outside of the lab. Pitches that are easily actionable are approved on the spot. As Innovation Director, Ryan Hamilton works with the project leader to map out the next steps and guide it through to completion. Ideas requiring more advanced processes will enter the innovation funnel, where the project leader guides a team as they drill down to the details, conduct research, create a prototype, and run a small pilot to test the concept.
Currently, there are 41 ideas at various stages in the INLIV innovation funnel.
Currently, there are 41 ideas at various stages in the innovation funnel. An additional 23 projects have been completed, having been implemented, altered or abandoned, depending upon what the research and testing revealed.
Success Stories from our INLIV Innovation Lab
The most substantial concept borne from the INLIV Innovation Lab is the virtual healthcare service, Wello.
"The electric light did not come from the continuous improvement of candles" – Owen Harari
Wello began as an idea in the iLab and progressed through the funnel with extensive research. A pilot program to test the service began in March 2016 and Wello officially launched in Alberta in the Spring of 2017. Wello's services have now expanded to British Columbia, Saskatchewan, Manitoba, and Ontario with further expansion to be announced soon. Wello's virtual healthcare service has also been integrated into some of our INLIV medical services, including a free year of Wello with a Proactive Health Assessment.
Our fitness and medical teams collaborated to develop advanced, medically-based fitness assessments. This initiative has also paved the way for the creation of a new Movement Medicine program.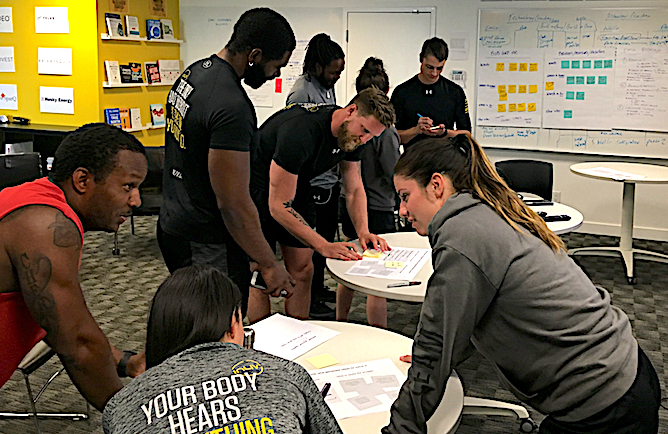 While our trainers sweat it out at the event, clients, guests and visitors can relax and enjoy food and drinks. Everyone is welcome to come by.  In addition, there will be some amazing gift baskets available to win.  Your ballot entry is by donation, with all proceeds going to KidSport Alberta. (If you or your company would like to donate an item for inclusion in the gift baskets, please send us an email).
Our trainers know that as hard as 120 minutes of insane amounts of exercise may be, it's all worth it to ensure Alberta's kids get to participate in sports and live active, healthy lives. We are extremely grateful to our friends and supporters who are helping remove the financial obstacles that families may face, allowing their kids to play sports and enjoy being kids!
To book your five minute session to Train The Trainer, contact Makaeley, our INLIV Fitness Client Experience Leader.
BOOK YOUR 5 MINUTE TRAINING TIME
Planning to attend Train The Trainer? Please note that INLIV will be taking photos at the Train The Trainer event on October 26, 2018. The images will be used by INLIV for marketing and advertising, with potential for use on INLIV's profiles on Facebook, Twitter, and LinkedIn platforms, on the INLIV website, and in print. Your attendance at the event establishes your consent to be photographed, filmed and/or otherwise recorded, and to the use of the media as described above.
---
Watch our INLIV Facebook page for more information and to follow the fun of Train The Trainer