Parissa Gillani, Corporate Health Coordinator, is a firm believer that small changes can have a big impact and pitched an internal program with a global impact.
By spearheading a battery collection program at INLIV and working with Teck and Unicef Canada's "Zinc Saves Lives Battery Recycling Campaign", INLIV collected 1,105 AA batteries, helping save 6,630 children's lives.
INLIV's Innovation Lab serves as a creative hub for our team, where everyone has the opportunity to propose ideas – big and small – to help enrich the lives of our team, our clients, our community and our world.
"The idea began when I attended a WE Day with my daughter and we were both inspired to take action and try to help. My daughter collected batteries at school and I proposed the idea at one of our INLIV Innovation pitch days. The team quickly jumped on board and the program was launched," says Parissa.
INLIV collected 1,105 AA batteries, helping save 6,630 children's lives
Parissa's pitch was aligned with our Innovation Lab goals and was easy to implement, according to Ryan Hamilton, Innovation Director at INLIV. "As part of INLIV's innovation portfolio, we encourage social innovation initiatives. The return on investment for social innovation is looked at through our team engagement lens. Our team becomes part of bettering the world around them which has great impact on their engagement and creates a positive social contribution, too," notes Ryan.
With INLIV's goal of inspiring amazing lives every day through improved health and wellness, Parissa was intrigued by the concept of combining recycling of batteries to improve the health of the planet and also save lives, as zinc could be harvested from the used batteries through the recycling process. For every AA battery recycled, Teck donates the value of zinc recycled to WE to provide life-saving zinc treatments for children in Kenya.
200,000 childhood deaths could be prevented with increased access to zinc
5 Facts About Zinc and Your Health
Zinc is an essential micronutrient that is crucial for growth and brain development
Zinc helps fight dangerous infections, especially in children
Foods that are rich in zinc include meat, poultry, seafood and nuts
Many people in developing countries have plant-based diets that do not provide enough zinc for healthy development
Zinc deficiency affects 1.2 billion people worldwide and contributes to the death of nearly 200,000 children under the age of five each year
For Parissa, this innovation project provided the opportunity to help educate and inspire her children, too.
One daughter helped collect batteries at school. Another was horrified to discover that it takes over 30 years for a single plastic water bottle to decompose. "Now she is constantly reminding her friends, family and her teachers to stop using single-use bottles because of their environmental impact. Even my youngest is becoming more aware. If one of her schoolmates throws something in the garbage that could be recycled, she will insist they pick it up and put it in the proper recycling bin. Everything from paper to plastic bags to cardboard – she's after them," Parissa says, laughing.
To learn more about the Zinc and Health program with Teck and Unicef Canada, click here.
Learn more about the innovation lab
Parissa graduated with her Bachelor of Science in Kinesiology from the University of Calgary. A personal trainer for over a decade, Parissa's areas of specialty are rehabilitation, special populations and endurance training. She now works with INLIV organizing corporate programs to encourage clients to incorporate healthy behaviours and wellness practices into their daily lives.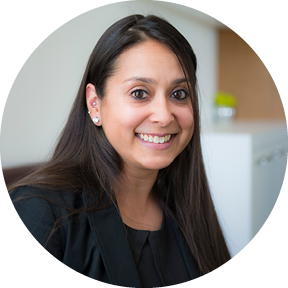 – Parissa Gillani
Corporate Health Coordinator, INmotivation