The fitness program at INLIV – and formerly Innovative Fitness – has continuously evolved over the last 20 years. We've recently integrated the knowledge of our medical team and the technology available to better meet our clients' needs.
Whether you are new to fitness, are plagued by a previous injury, or are looking for ways to increase your fitness training, without proper direction certain exercises can do more harm than good. This puts you at risk for injury regardless of your current fitness level. To help address this risk, our INLIV fitness and medical teams are pleased to unveil our new integrated fitness program: Movement Medicine.
Movement Medicine is a service designed to promote the health and well being of our clients through a thoughtful approach to coaching movement. Programs are created to improve the quality of life and the longevity of our clients, with high level care and consideration for existing health and fitness levels, including acute or chronic conditions and mobility issues.
Is Movement Medicine just for people with existing injuries or mobility issues?
Movement Medicine is appropriate for everyone, at any age and fitness level, and for improved performance in any sport or fitness endeavour.
For those challenged by acute or chronic conditions, and anyone experiencing fitness-related injuries and range of motion challenges, Movement Medicine identifies your specific health concerns, and allows us to create a customized plan that guides you towards achieving your short and long-term goals.
Whether you're just starting out, are working your way back into a fitness routine after an extended break, injury or illness, or are a regular gym rat or marathoner, our specialized team of fitness and movement medicine specialists will guide you through challenging sessions designed to motivate you in a safe and effective way. Plus, the implementation of consistent data collection tracks your progress in real-time.
"Movement Medicine is designed to promote the health and wellbeing of all our clients through a thoughtful, data-driven approach to coaching proper movement. Our goal is to educate and guide our clients effectively and efficiently towards their health and fitness goals," explains Jamie Wilkins, INLIV Fitness Manager.
What to Expect with Movement Medicine
Step 1: Screening
Movement Medicine begins with a comprehensive movement evaluation. The Functional Movement Systems (FMS) screen examines the mobility and stability of the hips, core, shoulders, knees, spine and ankles to uncover pain, asymmetry, or dysfunction in movement.
This evaluation will help identify your unique needs and risks for injury, and will establish a functional movement baseline for appropriate exercise programming.
Body misalignment and poor posture are common challenges for many people. It may be caused by an accident, injury, repetitive movements at work, or something as simple as regularly carrying a large purse or bag on one shoulder.
Step 2: Programming
Each individual has unique goals. We'll customize your workouts based on your personal goals as well as the results of your movement evaluation. Your personal training program will be broken into phases that provide focus and markers for success while implementing a corrective strategy to improve and normalize functional movement.
Our Fitness & Movement Medicine Specialists will encourage you to think of your desired outcomes in terms of performance-based goals. This goes beyond an appearance or aesthetic goal and gets to the heart of why you are exercising and what's important to you. It doesn't mean that your physical appearance will not be impacted. In fact, your appearance is more likely to change because training for performance increases the likelihood of maintaining your training over time and making progressive gains.
For example, if you decide your goal is to hike to the top of a mountain, your programming will revolve around improving your flexibility, strength, and endurance. A beneficial side effect of your program may be losing 10 pounds, but this goal will encourage you to look beyond weight loss to focus on achieving a greater experience. This approach allows us to establish positive, ongoing changes and is less likely to result in regression after you achieve your goal.

Step 3: Progression and Re-evaluation
During your session, your trainer will track and chart data and observations on the Wolf Electronic Medical Record (EMR) platform. This is the same platform INLIV and many other medical clinics use to manage our patients records so you can rest assured that it's private and secure.
This regular recording of information has proven to be one of the most useful additions to our program. By charting every session, it provides real-time data for the trainer to make adjustments and compare the information to your previous interactions. This data can also be shared with you at regular intervals so you'll see how all of your hard work is paying off.
Through proper and consistent documentation, any INLIV trainer, exercise physiologist, physiotherapist or physician can review your results and utilize the data to ensure a customized, integrated care plan.
"One of the core concepts for introducing Movement Medicine was to help educate our clients. The collection of their data, mapping measurable results with proof of progression helps them take greater accountability for their health and has a more lasting impact. We know we won't see results right away. And no matter how advanced they are or what their goals are, by constantly accumulating data, taking measurements, and testing against those measurements, we are able to identify trends in performance," says Jamie.
The Introduction of Movement Medicine
The initial concept of Movement Medicine began as a pitch for our INLIV Innovation Lab. A pilot program was approved to test the value of providing our fitness clients with essential medical screening data to help identify health risks and challenges, and to establish reliable base lines to measure their progress. Leading the project was Cole Elliot, one of our personal trainers, with assistance from Andrew Lester, physiotherapist, and our sports medicine specialist, Dr. Ralph Strother.
INLIV Innovation Director, Ryan Hamilton helped guide the development of the Movement Medicine program through the pilot phase to the launch. "Cole implemented all of our Innovation Lab frameworks and ran a highly successful pilot, with documented metrics and value reporting from the survey data. With the data and feedback, we fine-tuned the program with several iterations along the way from post-pilot to where we are now for the program launch. That's the journey of innovating within INLIV," notes Ryan.
What Clients Say About Movement Medicine
Our clients that participated in the pilot program provided valuable feedback:
"My body is feeling quite awesome now. I feel far stronger, more agile and have corrected imbalances which have decreased pain and improved my running."
– Lynn
"Less lower back and knee pain. Significantly improved mobility, had difficulty doing stairs and other day-to-day activities. Significant postural improvement."
– Mike
Incorporating Movement Medicine into our Fitness offering, and creating customized fitness plans designed to address specific health challenges and goals can have a greater impact on our client's health.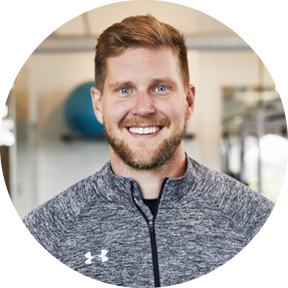 Jamie graduated from the University of Regina with a bachelors in Kinesiology and finished his CSEP-CPT certification in 2012. After spending several years working in a rehabilitation and exercise therapy setting, Jamie moved to Calgary to join the INLIV team. Jamie works closely with other trainers and healthcare professionals to ensure each client is receiving the best care and service through our integrative health care approach.